Using Mind Maps for your Business Ideas...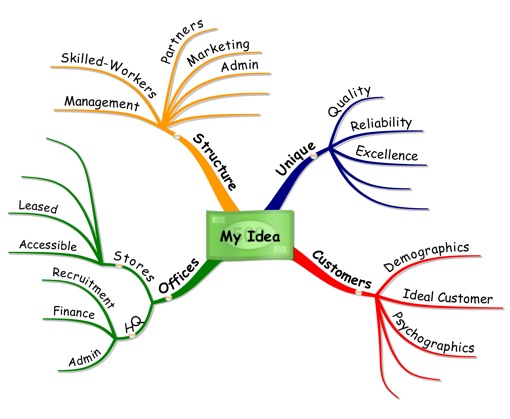 Do you have a business, or are you thinking of starting one?
Using Mind Maps to brainstorm and refine your business idea will not only get your idea off the ground, but take it to the next level. It is also an invaluable tool if your business is stuck in a rut.
The world is recovering from one of the worst recessions in years. Yet now is the time to revisit your business ideas, whether you want to start a new business, or plan a way to just survive. Starting at the bottom means there is only one place to go - UP!!
Here is a brief outline to give you some ideas on using Mind Maps for your business ideas.
Start with a picture of your company, your product, you, or anything that represents your idea. Put this picture in the centre of the page. Don't forget to turn your page sideways (landscape).
If you have Mind Map Software, use it. I recommend starting with the free ones, Xmind and FreeMind, if you are not using any software yet. After you've gained some experience using computer generated Mind Maps, you can test drive the commercial ones.
If you don't know how to Mind Map, or are new to Mind Mapping, look at the free articles on this site on how to Mind Map. Also have a look at the Mind Map examples, which give you a good idea of what a Mind Map should look like.
Draw a main branch from your central image and label it 'Unique'. Off this branch you can note all the reasons why your business or idea is unique. You can also mention how it is better than the competition's.
Draw another main branch from your central image and label it 'Customers'. Use sub-branches to establish exactly who your customers are, what they want and why your business or idea is the one that they should choose. You could also add some financial data if you have it. Note what you would like to receive from each group of customers. You could also do some research to see what other existing business are doing and earning in each of your chosen areas.
Draw your third main branch and call it 'Offices'. This can be a home office or a premises which you intend to rent or purchase. You can go into the details of the space, equipment, financing and even marketing on this branch.
Draw your fourth branch and label it 'Structure'. This will deal with the workforce you intend to employ. This will also include any partners that you have or may want to bring on board. You can include the experience that you, or your partner may have. Work out the roles of the team that you need to implement your idea. Even if you are a 'one man show', it is a good idea to map out the roles so that you can hand it over to somebody else as your business grows.
You can include recruitment strategies, different levels of skills and qualifications you may need, as well as full time, part time, freelance and contract employment.
I will go into the details of using a Mind Map to draw up a business plan in another article. For now, have a look at the Mind Map Example to get you started.
Return from Using Mind Maps for your Business Ideas to Using Mind Maps homepage
Subscribe to Using Mind Maps
Get Access to the Best Mind Mapping Tips, Tools, Techniques Resources and Opinions.