Learn Othello Faster and Easier
Get our Interactive Orthello Mind Maps Today!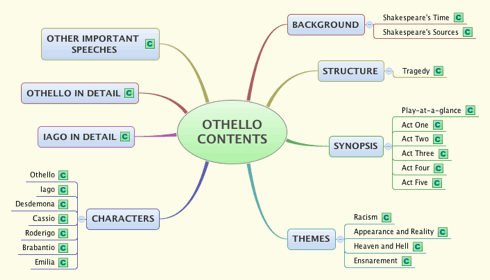 Why Othello?
Othello is an intriguing play covering the themes of racism, infidelity and revenge in a way that is as pertinent today as it was 400 years ago.
Othello, described as a Moor, and traditionally interpreted as a black man, wins the heart of a white woman. Even today, racism is still an issue all over the world and love across the racial divides are still scorned by many. Desdemona, Othello's object of affection, is the daughter of a member of the Venetian court and her father does not approve of her realationship with Othello.
Othello is a military man, and even though he is highly decorated, he is not at ease with public pomp and circumstance.
Then there is the quest for revenge by Iago, who is passed over for promotion, and convinces Othello of Desdemona's infidelity.
Being unable to relate to individuals on a personal basis, Othello is a poor judge of character and falls prey to Iago's ruthless schemes.
His ignorance and naivete ultimately causes his demise.
Does this sound like a Shakespearian play? It could easily be scenes from a modern drama, or Soap Opera.
Now, for the first time, we are bringing Othello to you using Mind Maps. The Mind Map Tutor contains over 30 easy to use Mind Maps that guide you through the important aspects of the play.
If you need to learn Shakespeare fast and easily, then our Othello Mind Map Tutor is exactly what you need. Just think how effectively you can learn by having a visual guide of all the important aspects of the play, with information is structured so that it is easy for you to understand, easy to explore, easy to interact with, easy to memorise and simply much more fun!
Browse through the comprehensive contents below to give you an idea of what the Mind Map Tutor contains. Save yourself hours and hours of frustration and get the Mind Map Tutor now.
Subscribe to Using Mind Maps
Get Access to the Best Mind Mapping Tips, Tools, Techniques Resources and Opinions.

OTHELLO CONTENTS
BACKGROUND
Shakespeare's Time
Shakespeare's Sources
STRUCTURE
SYNOPSIS
Play-at-a-glance
Act One
Act Two
Act Three
Act Four
Act Five
THEMES
Racism
Appearance and Reality
Heaven and Hell
Ensnarement
CHARACTERS
Othello
Iago
Desdemona
Cassio
Roderigo
Brabantio
Emilia
IAGO IN DETAIL
OTHELLO IN DETAIL
OTHER IMPORTANT SPEECHES
Why an Othello Mind Map Tutor?
Like all our Mind Map Tutors, the Mind Maps are Fully Interactive so that you can add your own thoughts and ideas. They also contain hyperlinks so that you can easily drill from one Mind Map to the next and back again.
The Othello Mind Map Tutor contains over 30 Mind Maps that are structured in a way that is easy to learn, simple to use and produces fast results.
So, if you want to get a headstart and learn Othello faster and easier, get our Othello Mind Map Tutor now.
Simply click on the button below to get instant access.
Only $27-00
All you need is a free download of Xmind, to get you started and in no time at all you will be experiencing Othello like never before.
Our Mind Map Tutors are based on years of teaching in the classroom as well as extensive experience and knowledge of the subject.
Our Associate Author, Barbara Wellbeloved, is the author of the Shakespeare Mind Map Tutors. We are truly happy to have her on board. We, at UsingMindMaps.com, have learned a lot from her knowledge and experience. So can you.
So don't delay any further. Get our Othello Mind Map Tutor today!
---
Interactive Sample
---
Return from Othello Mind Maps to Using Mind Maps Home Page