Mind Map Business Guide to Starting and Running an Online Business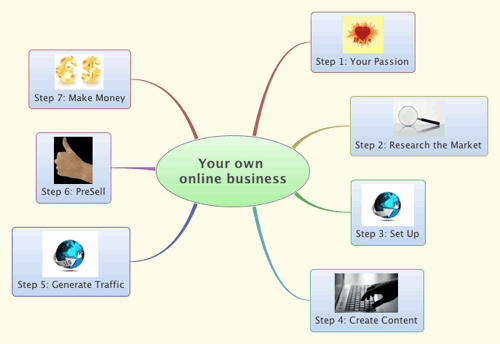 If you are thinking of creating an online business then have a look at our guide before wasting time, money and effort.
This Seven Step Process will give you everything you need to decide whether an online business is for you and the effort that it will take, so that you can be successful in your new venture.
Our Mind Map Tutor on the subject will serve as a guide and template to guide you through the process. After following our Mind Map Tutor, you will know whether you are ready to take the next step. You will also have a complete blueprint so that you can easily take your online business forward, if that is your intention.
The Mind Map above gives you an overview of the process. Scroll to the bottom of the page to download an Interactive Version. (Note that you need Xmind, free Mind Map Software, to use the Interactive Version)
This is typical of all our Mind Map Tutors. At one glance, you can see the full process. Success is all about the process. After talent and passion, process is often what differentiates the successful from the unsuccessful.
The process we've documented has been used by thousands of successful SBI! business owners, including us.
While we promote SBI! as we feel it is the easiest way to create and run an online business and has all the tools you need in one place, it is possible to use the same process with other tools. We will give you options along the way, so that you can make an informed decision.
We are an SBI! affiliate, so any purchases made by you via links on our side could result in commission for us, but our main focus is on Creating and Using Mind Maps to be more successful.
Subscribe to Using Mind Maps
Get Access to the Best Mind Mapping Tips, Tools, Techniques Resources and Opinions.

Step 1: Your Passion
Passion keeps you motivated and going when the going gets tough. Motivation and passion are the Key Ingredients in the success of most successful people. By combining your knowledge and skills with passion, you will create enthusiasm in both yourself and your visitors. You don't have to be an expert - but you have to be an enthusiast!
Read more on how to make money with your passion.
Step 2: Research the Market
While you may have talent and skills in a certain field, you need to ensure that there is a market for your subject. Chances are great that there will be a market, but will you be able to participate in the market? This section covers how to research a niche market that can be leveraged. It is based on two factors: How many people are looking for what I have to offer and How much competition do I have?
We give you a good overview of tools you can use to research the online market and also give you guidance in choosing your niche.
Step 3: Set Up
We show you two ways of setting up you website. The first one is using a WordPress Blog, which is free and the second one is using SBI! which is not free. Both can work, but if you want a serious content based website, I highly recommend SBI! as it gets out of your way and lets you focus on your business. Also, everything is there already. You don't have to load plug-in, extensions, widgets, or other add-ons. But, the choice is yours.
Read more on blog or build before you decide.
Even though we recommend SBI! we will also show you how to use a Blog to run your own online business, if you have more technical skills.
Step 4: Create Content
Good quality content will never let you down! Write this down, memorise it, tattoo it on your forehead - do whatever it takes to remember this.
We will show you ways to not only write good content, but also structure it correctly.
See how building an information rich site can ensure your online success.
Step 5: Generate Traffic
Good content will generate good traffic. By structuring your content correctly, as shown to you in the previous module, you will naturally rank well in the search engines. But, more importantly, you will attract good quality traffic; traffic that's interested in what you have to say.
We will also give you some guidance on advertising online, whether it be Google's Pay per click system, or Facebook's. You should have a steady stream of free traffic before you start paying for more.
You will also have an idea of conversion rate, i.e. visitors to sales, before you pay for traffic.
Step 6: PreSell
This is the missing ingredient in most online businesses. By giving your visitors good, quality content on your theme, you will build credibility.
People are more willing to by from somebody they know. You therefore have to build up a relationship with them. Do not expect to put up a fancy sales page with lots of bells and whistles and expect sales to come flooding in.
You will be doing exactly the opposite. You will quietly win their confidence and drive people click by click to your sales pages.
Once they land on your sales page, they will have more of an 'open to buy' mindset. This is when you convert their interest to sales.
This strategy works in any online market. Your ability to PreSell your visitors can be superior to big businesses, as you provide the personal touch - and nothing beats personal touch.
Read more about the PreSelling concept and download the Free Ebook on making your knowledge Presell.
Step 7: Make Money
This is the last step in the process. Only once you have good quality content, sufficient traffic and visitors with an 'open to buy' mindset, will you start making money.
You could think of your monetization strategies early on. You could even do it after your market research.
But once you've identified your strategy, put it on hold until the rest of the steps have been implement.
Don't stop with one strategy. We will give you multiple monetization strategies so that you generate multiple streams of income, which is the safest option.
Have another look at the results that Solo Build It! sites are getting. Do you have any monetization ideas?
---
---

Return from Mind Map your Online Business to Using Mind Maps Home Page