English Grammar Mind Map Tutor
Improve your English Grammar quickly and easily...
Here's the easy way to improve your English in a way that works with your brain's natural learning mechanisms so that you learn in a way that is interactive, colourful and fun.
Would you like to improve your English Grammar, but the thought of working through another English Handbook makes you shudder?
Are you learning English at University, College, or School?
Do you wish you could use English better in the workplace, or in your business?
Are you learning English as an additional language?
Would you like to improve your knowledge of English Grammar in an easy, fun way?
Well, look no further. We have built an
interactive Mind Map Tutor
that can be used as both an easy reference as well as a step by step tutor.
We have built our reputation on supplying you with Mind Maps and Mind Map Tutors that are easy to learn, simply to use and produce fast results.
It is with this in mind that our English Grammar Mind Map Tutor has been developed.
Subscribe to Using Mind Maps
Get Access to the Best Mind Mapping Tips, Tools, Techniques Resources and Opinions.

Why an English Mind Map Tutor?The idea of creating a Mind Map Tutor for English Grammar first dawned on me when I was learning Dutch, while living in The Netherlands. I used Mind Maps extensively in the acquiring of a Dutch Second Language Diploma.
While the Mind Maps helped me and was definitely the key to obtaining the Diploma in the space of one year (which consisted of four examinations - reading, writing, listening and speaking) - they were not compiled into one cohesive whole.
Our English Grammar Mind Map Tutor was therefore designed to work holistically from the beginning.
You can start at the main Mind Map and drill into the details, or you can dive directly into the area that you want to learn. You will immediately be faced with a simple Mind Map of the focus area. Each Mind Map has been designed to be learned as a singular stand-alone unit, yet form part of a bigger picture.
This is only possible with Mind Maps.
You could also benefit from the experience I gained during the learning of a foreign language, Dutch. You need to learn the Grammar rules and structures to ensure everything you learn goes into long term memory.
I learned this the hard way.
My son, who was seven years old when we went to The Netherlands, learned Dutch much quicker than I did, as he did not ask questions and was prepared to make mistakes.
I, on the other hand, needed a structure. Learning Dutch Grammar gave me the structure I needed, but it took much longer to learn the language.
While it took me much longer to learn the language, it also took me much longer to forget what I had learned. The Mind Maps I used when learning Dutch 'stuck in my head'.
I still remember the rules nearly ten years later, while my son has forgotten nearly everything.
It is for everyone using English
But this is not only for you if you are learning English as a foreign language. It is for everyone using English and definitely for anyone learning English.
It is for you if you are:
At Work
In Business
At University
At College
At University
Learning English as a Foreign Language
Simply using English on a regular basis.
Things like
figures of speech
,
concord
and the
parts of speech
are just some of the topics covered. Each topic has
numerous examples
to clarify the topic, making it easy to learn the theory and see the application of the theory.
With the Interactive Mind Map Tutor, you will also be able to add your own examples, or expand on the explanations given. In this way you become the centre of your own learning process, ensuring that you are in charge of the situation at all times.
So - If you are serious about learning English Grammar, but are frustrated by complex English Grammar text books, our English Mind Map Tutor is what you need.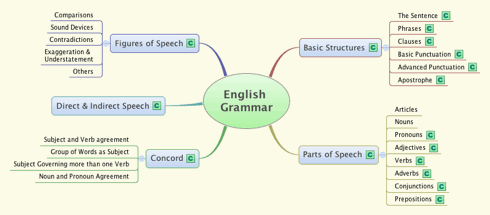 There are more than 15 Mind Maps in the Mind Map Tutor workbook. Each topic has an overview, as well as a detailed Mind Map with examples. This enables you to not only learn and memorise the subject, but also access numerous examples to help you understand better.
Bonus - The Elements of Style
This book was published in 1918 and the original is now out of copyright. I have chosen to package an ebook version for you at no cost.
The Elements of Style ("Strunk") is an American English writing style guide. It is one of the most influential and best-known prescriptive treatments of English grammar and usage in the United States. It originally detailed eight elementary rules of usage, ten elementary principles of composition, "a few matters of form," and a list of commonly misused words and expressions. Updated editions of the paperback book are often required reading for American high school and college composition class — Excerpted from The Elements of Style on Wikipedia, the free encyclopedia.
The 'Elements of Style' gives you practical tips on writing that can be applied immediately. It is prescribed as necessary reading in many learning institutions. Yet is not a heavy academic book. It is written in an easy to read style with tips that can be applied immediately to your writing.
Instant Access
To get instant access to both the English Grammar Mind Map Tutor and The Elements of Style (Strunk), simply buy now by clicking on the button below. Payments are handled via PayPal's secure payment processors.
Your unique download link will be sent immediately, so that you can get started right away.
We are giving this away for only $17. You can get it clicking on the 'Buy Now' button below.
Please note that you need Xmind to use this Mind Map Tutor. Xmind is Free, Opensource Software that can be downloaded at the Xmind website.