Hamlet Mind Map Tutor
Learn Hamlet Faster and Easier with our Interactive Hamlet Mind Map Tutor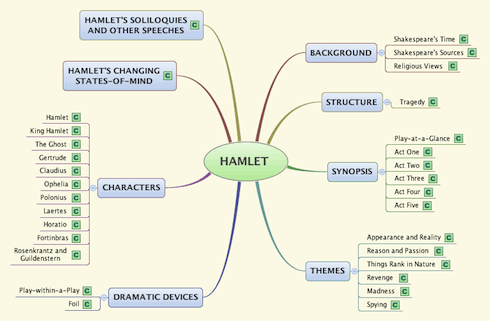 Why Hamlet?
If you are learning Hamlet, then know that you are learning what is probably the best play ever written.
Hamlet is the most famous of Shakespeare's plays and also his longest. Every famous actor throughout the ages wanted to play Hamlet and some did it better than others, even though they all thought they did him justice.
Hamlet is a complex character and needs an accomplished actor. Most actors that played him were too old. Hamlet was about 29-30 years old, but most actors are much older before they are accomplished enough to play Hamlet. There are even many cases where his mother is played by a younger actress than the prince himself!
Being such a complex play, it may serve you well to have a look at our approach to learning Hamlet.
Subscribe to Using Mind Maps
Get Access to the Best Mind Mapping Tips, Tools, Techniques Resources and Opinions.

Our approach
Our Hamlet Mind Map Tutor breaks this complex play into an easy to use format so that you can explore all the themes, characters, background, speeches and much more, in an easy to use Interactive set of Mind Maps developed by our associate, Barbara Wellbeloved. All you have to do is click from the one topic to the other and back again. Interrelations between the various components are therefore easy to follow and to remember.
There are over 40 Mind Maps to cover the details, but also plenty of summary Mind Maps so that you don't get lost in the details. By learning the summary branches, you give yourself 'mental hooks' to which you can attach the details.
Using it together with our Learning Management Program will make the learning process even easier.
So, If you are studying, or teaching, Hamlet, get our Hamlet Mind Map Tutor now and start exploring Shakespeare's greatest play immediately.
Simply click on the button below to purchase the Hamlet Mind Map Tutor via our secure PayPal payment processor. An email link will then be sent to you so that you can download and use it immediately.

Only $27
The files are in compressed Zip format making the download smaller and uses XMind to view and edit. You can simply download the free OpenSource version of Xmind to view the Mind Maps.
---
Overview of Hamlet Mind Map Tutor
---
Return from Hamlet Mind Map Tutor to Home Page
---