Introducing the Mind Map Learning Portal
A Mind Map Learning Portal manages your learning and training from several sources holistically
Subscribe to Using Mind Maps
Get Access to the Best Mind Mapping Tips, Tools, Techniques Resources and Opinions.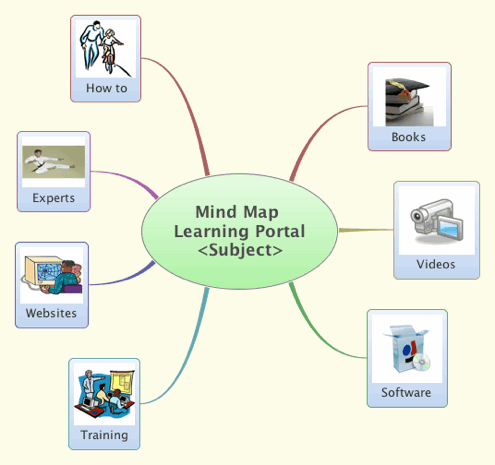 Learning Portals
Learning Portals are more prevalent in bigger organisations, where Internet Technology is used to provide employees with a central place to manage all the knowledge they need to perform their duties.
The definition of a Learning Portal according to businessdictionary.com is:
'A Website that presents learning and training goods and services from several sources.'
Learning Portals have proved very successful in many companies.
There are largely two types of Learning Portals. The first one is a general one that show employees what paths they have to follow for specific career paths or roles. It shows both the competencies that are required, as well as the resources needed to get those competencies.
Another approach is to provide a customised portal for the user, where specific courses, materials, etc. are tailored to the person's needs. Each person will then have a unique Learning Portal suited to their own requirements.
My approach is slightly different, in that I believe that you should be in control of your own learning. You should therefore set up your own learning portal based on your lifelong vision, or the specific subject that you want to learn.
To do this, I suggest you set up a Mind Map Learning Portal
The Mind Map Learning Portal
The Mind Map Learning Portal is not unlike the Web Learning Portal, except that it is tailor made to suit you and it is very easy to set up. It uses Mind Map software, instead of Web based technology and databases.
All you need is the Mind Map Software of your choice.
We recommend Xmind, as it has great features for a free product and can be upgraded to a premium version if you need more functionality. All the Mind Map Software packages allow you to add links to external resources, so you are not restricted to Xmind. You can use the software that suits your learning style and preferences.
A Mind Map Learning Portal consists of a simple Mind Map with branches linking to all the relevant resources that you need to achieve your objective.
I have attached a free download for you to get started. Simply download the Mind Map (you need free Xmind software to read it) and start adding your links. It's that easy.
The Mind Map will always be 'live' in that you can simply click on the links to navigate to your resource.
Even though the Mind Map Learning Portal is easier to set up than a website, I think it works better than a website for a personalised learning portal, as you are in complete control and everything you need is right there on one Mind Map.
Getting Started
Download the Free Mind Map below and insert your subject in the centre. You can create a new Mind Map for each subject, or you can create a single workbook with Xmind with a new sheet for each subject. In this way, you will have all your Mind Maps in one easy to use Workbook.
Before you start with your Learning Portal, I suggest that you start with your lifelong vision, or the vision you have for the particular subject that you want to learn.
To get the best use out of your Learning Portal, revisit your learning process. I obviously recommend our Learning Management Program, which is a ten-step program giving you a holistic approach to learning that shows you how to acquire and apply the necessary learning skills and once you achieved them, how to keep sharp so that your learning remains effective.
But you can obviously use your own process.
Now spend some time thinking about the resources that you need and start adding them to your Mind Map. The Xmind Mind Map is fully interactive and you can add or delete resources as necessary.
Feedback
I'll be very keen to see your feedback on this concept. Please contact us via our Contact Form. If you have good learning portals for your subject, you could even publish it to our site and show the world!
---
---
Return from Mind Map Learning Portal to Using Mind Maps Home Page