Using Mind Maps Magazine
July 2014
Meet the Mind Mapping Experts - Q&A with Mindjet CEO Scott Raskin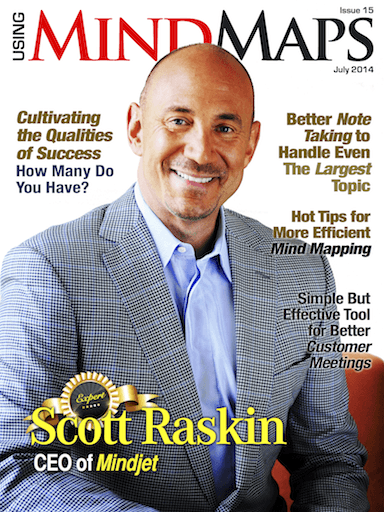 Editor's Note:  Every issue surprises me - Faizel Mohidin
I've been a practicing Mind Mapper for over two decades, yet I learn something new from the contributing authors with every issue. By simply collating and editing the magazine, I learn something new.
But, then again, this shouldn't surprise me. The best way to learn is in small chunks over a period of time. An hour a day, or even a week, is better than five hours, one day a month.
So, let's take a quick look at this issue, and what you can learn…
Excerpts From This Issue:
Meet the Experts - Q&A with Mindjet CEO Scott Raskin
Mindjet, providers of the first software platform with the capability to drive repeatable business innovation and productivity at scale, is committed to enterprise innovation excellence. Millions of people, as well as 83% of the Fortune 100, use Mindjet's enterprise-ready innovation management and productivity suite, featuring their MindManager mind mapping software and SpigitEngage for enterprise innovation.

We sat down with Mindjet CEO Scott Raskin to discuss what's happening in the mind mapping space, his goals and aspirations for Mindjet, and the future of their flagship mind mapping software product, MindManager…
Subscribe to Using Mind Maps
Get Access to the Best Mind Mapping Tips, Tools, Techniques Resources and Opinions.

Cultivating the Qualities of Success - Adam Sicinski
Success cannot be defined by one single quality, characteristic or psychological trait. If it were that easy, then everyone would be successful and there would be no purpose for this article or mind map. Instead success is rather a delicately blended mixture of qualities, characteristics and traits that if balanced in the right combinations will help you attain the pinnacles of achievement. Just like the ingredients of an elegant meal, a little too much confidence, or too little attention to detail and the entire cake will fall apart when heated up in the oven.

Within today's discussion we will break down the indispensable qualities of success from a variety of angles and perspectives…
Roger C. Parker's Newcomer's Perspective - Mind Mapping Efficiency. Part 1: Commit to Efficiency from the Start

There are lots of reasons to get involved with mind mapping. One of the most popular is to save time by planning your projects before starting to write or begin to create graphics. 

The time you spent creating a mind map, for example, will be repaid in the time you save by avoiding false starts and wasted effort. It's a lot more efficient to identify key ideas and the logical order to introduce them in a mind map, than it is to delete text and reorganize ideas after you've finished the first draft…
Mind Mapping: Taking Notes - MindMeister
Do you find it hard to study large topics? You're not alone, studies have shown that students can learn a lot faster and have a better chance of remembering information which is divided into smaller segments.

Let's say you've been given an assignment; to write a paper or do a project or even if you want to take notes on a subject for an end of year exam. At first glance when you see the huge amounts of information available, in books or online, it can all seem a bit daunting and you wonder 'how will I ever be able to write a paper on this' or 'how can I possibly learn all of this'. Mind mapping is the solution…
Topic notes: A powerful repository for capturing expanded information in mind maps - Chuck Frey
Topic notes represent a great way to store additional information in your mind maps and help to reduce visual clutter and information overload. Here are some tips to help you use them more effectively.

In most software programs, notes may be attached to any topic and are displayed in a separate pane to the right or below the workspace. They are especially useful because they can be easily hidden from view, yet can be accessed via a single mouse click…
Mind Mapping to Create a Brilliant Ebook Cover Design - Jim Lauria
Many publishing experts claim that after writing excellent copy for your eBook (see my last article, Becoming a Writer, Mapper and Synthesizer), the next most important thing to do is create a good cover design. As Mark Coker, founder of Smashwords, states: "A great cover design makes a promise to the reader."

Mind mapping to design your cover can help you keep that promise…
Using the POINTS Tool to Prepare for Customer Meetings - Tarek Fahmy - Licensed Buzan Instructor
…In a complex sale, since you are meeting different decision makers, then a good preparation is a must.

POINTS, explained below, is a very good tool to use to ensure you are well prepared. This  tool was invented by a consultancy firm named Mercuri International…
Mind Mapping News and Events
Get the latest Mind Mapping News and events in the Mind Mapping World.

Get tips, tools and techniques from the world's leading Mind Mapping Experts.

Do you have any news or events? Send them to us via our Contact Page.
Stay in touch with the growing Worldwide Mind Mapping Community!
Subscribe Now and Get 50% off the Cover Price and the Latest Issue Free!