Using Mind Maps Magazine
January 2014
Your Blueprint to Success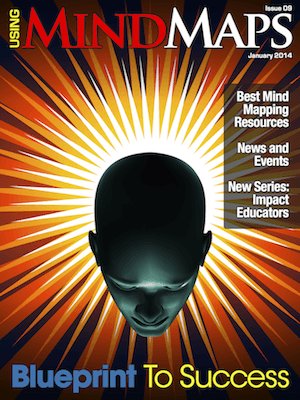 Editor's Note: Happy New Year!
While putting together the first issue for the year, I found myself revisiting my Vision and Purpose of the Magazine, which has been my main focus in 2013. My main vision was to have a collaborative publication bringing readers tips, tools, techniques and opinions of Leading Mind Mapping Experts, as I believe that by being exposed to diverse opinions, we learn the most. It also challenges our existing beliefs, which gives us growth - in sometimes unexpected areas.
This year, I plan to take the magazine to more platforms, so that it becomes available to an even wider audience. 
As usual, if you have any feedback, please send it to us via our Contact Form.
Excerpts From This Issue:
New Series: Impact Educators - Jamie Nast
'…Scott Letwin is an Electrical Apprenticeship Instructor at Red Deer College in Red Deer, Alberta CANADA. I met him in person when he attended my Idea Mapping Workshop in Palm Beach, FL December 11-12, 2013.

He has been at Red Deer College for eight years and has been successfully teaching mind mapping to his students and having a profound impact on their retention of the material in addition to providing them with a tool they can use for a lifetime. Discover how this model instructor used his creativity to perfect a successful process for his classroom…'
Subscribe to Using Mind Maps
Get Access to the Best Mind Mapping Tips, Tools, Techniques Resources and Opinions.

The Blueprint to Success - Adam Sicinski
'…Success is somewhat perceived as a psychological science built upon a mathematical formula of sorts. When you mix this and that ingredient together, and you add these two digits you will essentially transform your life and achieve the success you have desired all this time.

If I only knew that when I was a teenager…'
Four Innovation Maps - Arwen Petty
'…When Mindjet merged with innovation management company Spigit, we had one overarching goal in mind: to bring a repeatable business innovation solution to market, and to do it while staying true to our flagship MindManager product.

And so, in the spirit of moving forward and paying homage to our roots, here are 4 user-submitted mind maps on our new favorite topic…'
Thought Leadership - Chuck Frey
'…Thought leadership is a popular concept these days. Many people want to know how to become one in their niche of choice, and there is no shortage of advice on how to become one.

To help me to better understand this concept, I recently visited some of the leading websites on the topic of thought leadership, gathered some of the best ideas, strategies and tactics about it, and distilled them into the mind map above…'
How to Learn a Second Language with Mind Maps Part  I - Raphaela Brandner
'…Mind maps are great for studying and memorizing, which is why they can make learning a second language easier, faster and a lot more fun. Students of all ages can use this simple technique to memorize vocabulary, learn grammar rules, brainstorm and outline their texts, and summarize books and articles.

This is the first part of our series "How to Learn a Second Language with Mind Maps", which will deal with the memorization of vocabulary…'
The Mind Map Learning Portal - Faizel Mohidin
'…The Mind Map Learning Portal is not unlike the Web Learning Portal, except that it is tailor made to suit you and it is very easy to set up. It uses Mind Map software, instead of Web based technology and databases.

All you need is the Mind Map Software of your choice…'
The GRPI Change Model - Tarek Fahmy
'…"100% of all changes evaluated as  "Successful" had a good technical solution or approach"

 This make sense right? But don't relax… here is what they also found:

"Over 98% of all changes evaluated as "Unsuccessful" also had a good technical solution or approach"…'
Best Mind Mapping Resources - Faizel Mohidin
'…The list of resources below are ones that I personally use, or have been in contact with. It is not meant to be a complete and exhaustive list, but merely a list to get you started. Have a look at my article on a Mind Map Learning Portal and create one for yourself on Mind Maps. Add the names and links to your Mind Map and expand as you see fit.

The software list contains a list of Software that I have used…'
Mind Map of the Month: Uplifting Ideas - Paul Foreman
Mind Mapping News and Events
Get the latest Mind Mapping News and events in the Mind Mapping World.

Get tips, tools and techniques from the world's leading Mind Mapping Experts.

Do you have any news or events? Send them to us via our Contact Page.
Get Your Copy Now!
Subscribe and Get 50% off the Cover Price!