Using Mind Maps Magazine Issue 33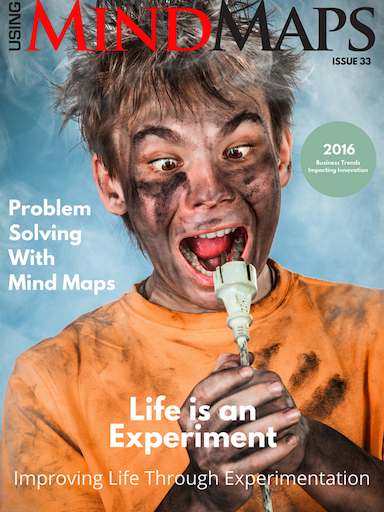 Editor's Note - Changing Landscape
Faizel Mohidin
What would you like to see?
Recently, the Mequoda Group published a study on the Digital Publishing industry based on their survey of the USA market.
This is what they found out:
'...We found that 36.8% of American adults have read an average of 2.37 digital magazine issues in the last 30 days. This means that 77 million adults have read an average of 184 million digital magazine issues in the last 30 days...'

Biggerplate Unplugged returns to the USA!
By Biggerplate
We are super excited for our annual "Biggerplate Unplugged" conference, which is being held next month in New York! This conference is the only conference in the world dedicated to mind mapping, and aims to provide an opportunity for our global user community to meet and discuss developments and innovation within the mind mapping world! But hurry, places are limited and selling out fast. We are offering you a 25% discount with the code UMM25 so that you can get the most out of this fantastic opportunity! Please visit our Events Page on our website for more details and to book your place!

Problem Solving With Mind Maps
By Mindmeister
"The formulation of the problem is often more essential than its solution, which may be merely a matter of mathematical or experimental skill." – **Albert Einstein**
'… Einstein nailed the definition of problem solving: we need to **understand the problem** before we can find its solution, which may be the simplest idea that connects all dots. Problems are an inseparable aspect of our lives and business relations. If you want to start a business, you'll inevitably run into several **complex problems:** how do you found a profitable company, how do you make it stand out among the competition, how do you attract more customers, and how do you maintain and boost its reputation?...'
How visual whiteboard tools amplify creative teamwork
By Chuck Frey
'… Collaborative whiteboard tools enable teams to share ideas, concepts and inspirations visually. That enables them to reach consensus faster, iterate and improve ideas and even assign tasks to begin project implementation.
They are a unique animal, much different than popular enterprise collaboration tools like WebEx and GoToMeeting. To help you better understand what collaborative whiteboard tools are and how they can help teams be more productive and creative, I recently interviewed Daniel Bohn, the founder and CEO of (ConceptBoard.[http://conceptboard.com/] He shared some brilliant insights about their unique capabilities and advantages...'
Life is an Experiment: Improving Life Through Experimentation
 By Adam Sicinski
"All of life is an experiment. The more experiments you make the better." -Ralph Waldo Emerson

 Life is Like a Box of Chocolates…
'…We all no doubt experience our fair share of setbacks and disappointments over the course of a lifetime. At one point things are going well, then all of a sudden an error of judgement, a fatal mistake, or an unexpected event can completely derail our efforts. And what seemed like a perfect day has turned into an absolute nightmare...'

5 Business Trends Impacting Innovators in 2016
From the iMindQ Blog
...You cannot expect yourself to drive innovation at the workplace without having a firm grasp on the elementary facts about business. It's hard to keep up with the development of each and every industry but fortunately, there exist some trends which hold true for every single line of business. Here are top 5 tendencies predicted to rule the business scene in 2016 and bound to impact innovators in all sectors...'
The Swiss Cheese Model: How Mistakes Happen
By Tarek Fahmy - Licensed Buzan Instructor
'...On 1st July 2002, DHL - Boeing 757-23APF aircraft, on a cargo flight from Bergamo to Brussels, collided with a Bashkirian Airlines Tupolev TU-154 near Ueberlingen on the northern shore of Lake Constance, which borders Switzerland and Austria, around 11:43pm local time.
Both aircraft under Swiss air traffic control (Zurich).
The aircraft collided, broke apart and crashed, with debris scattered over an area nearly 40km wide. Both crew members were killed in the DHL plane, and all the 69 passengers and crew members died in the Bashkirian plane...'
Mind Map Mastery
Chuck Frey
Introducing the Mind Mapping Insider membership program – designed to help you think and create at a higher level.
..What do you do with a dull knife blade that no longer cuts well? You sharpen it, of course. Knowledge is the same way. Your ability to use your mind mapping software may be adequate – but it could be so much better. Like a finely-honed knife blade, mind mapping expertise can help you cut big projects down to size, make better business decisions and trim away the information clutter so you can zero in on the priorities that really matter...'
Learning Management Program Special Edition
Our popular program Now Available on your Mobile Device for the first time!
The Big Idea 
Peter Drucker, the great management guru, correctly predicted:
"The most valuable asset of a 21st-century institution, whether business or non-business, will be its knowledge workers and their productivity."
As a knowledge worker, the importance of acquiring and managing your knowledge effectively has become an important skill simply to stay abreast, never mind getting ahead, in this turbulent world.
If you are doing a job that is not simple routing or repetitive work, but have to 'use your head', then you are a knowledge worker...
Your Feedback
The first phase was to set up a scalable infrastructure that could deliver a well formatted interactive digital magazine seamlessly and easily to you.
The next phase is to find out what you would like to see, or what your problems are so that you are always getting relevant content.
Some of the best Mind Mapping Minds and Software vendors are featured in the magazine. So, if I don't have an answer, I'm sure one of them will.
So, email me right now with what you would like to see in the Mag. I'll be waiting...
And More...
Want to read More?

Click the applicable link below: 
[Click Here to get it on iOS >>]

[Click Here to get it on Android >>]
Faizel Mohidin


Publisher
Using Mind Maps Magazine
Subscribe to Using Mind Maps
Get Access to the Best Mind Mapping Tips, Tools, Techniques Resources and Opinions.