Using Mind Maps Magazine
December 2013
Increase The Visual Impact of Your Mind Maps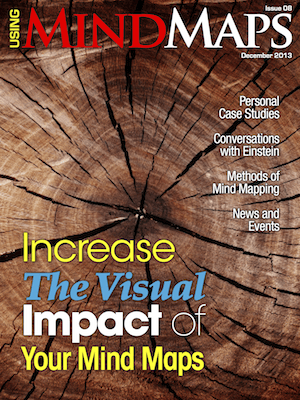 Editor's Note: Application
When I talk about Mind Mapping, many say that they know about it, yet they don't use it - even though they know all the benefits. Changing habits is hard. You really have to apply yourself.
Success in anything takes time and effort.
I am committed to bringing you interesting theory, applications and ideas to help you become a better Mind Mapper, but you have to apply the methods. Simply reading about it is not enough.
Like any enthusiast of a subject, getting hold of lots of different material and methods, as well as following various experts, will keep the enthusiasm alive and make you a better Mind Mapper.
Consistent application over time will guarantee success.
This month, we've included a few personal case studies to inspire you. I hope that they will inspire you to take your Mind Mapping to the next level and also share your ideas and methods with others. By sharing, you will become even better and help build a strong and better Mind Mapping Community.
Excerpts From This Issue:
How to Create an Idea Dashboard - Roger C. Parker
"…Just like the dashboard of your automobile allows you to monitor numerous functions at a glance (i.e., current speed, miles traveled, available gasoline, current radio station, and comfort settings, etc.), an idea dashboard helps you monitor ideas worthy of further study…"

Website: http://www.mindjet.com
Subscribe to Using Mind Maps
Get Access to the Best Mind Mapping Tips, Tools, Techniques Resources and Opinions.

How to Increase the Visual Impact of your Mind Maps - Chuck Frey
"…Images add visual interest to your mind maps. They can be utilized as the central topic of your map, or attached to other topics, and add a wealth of meaning and context to your maps.

According to mind mapping expert Tony Buzan, adding images to mind maps has numerous benefits…"

Website: 
Conversations with Albert Einstein - Adam Sicinski
"…What follows is a transcript of a hypothetical conversation I had with Albert Einstein. I've taken Einstein's words statements that have been commonly attributed to Einstein, and turned them into a dialogue about all aspects of success, achievement, creativity and much, much more as they relate to our modern era. The interview provides many tremendous insights into the mind of this great man…"

Website: http://www.iqmatrix.com
A Physicist, His company, His Life and Mind Maps - Mark Wrigley
'…Mind Maps are my meditation! Whenever I've got an idea or complicated project I sit with Mind Maps and put down everything that comes to mind. Sometimes, I'll keep coming back over a long period of time and use Mind Maps to record new ideas or even something that I've come across on the web…'

Website: http://www.xmind.net
Global Mind Map Survey 2013 - Liam Hughes
'...We're very excited to announce the launch of our Global Mind Map Survey 2013, which aims to gather a unique insight into how people around the world are using mind maps! What's more, you could win £200 in Amazon vouchers, just for sharing your own perspective! ...'

Website: http://www.biggerplate.com
Introduction to Pricing - Tarek Fahmy - Licensed Buzan Instructor
'…So what is pricing? Pricing is defined as assigning a monetary value to a product or a service. You can and buy a soda drink for a price and you also go and get your car serviced at a price. But pricing is not that simple!! It is one of the most complicated marketing concepts. There are lots of factors that companies take into account when they set price for their goods…'

Website: 
The Memoirs of a Personal User - Stefan Jordev
'…Ever since I got involved in mind mapping I've made it my personal mission to discover all the aspects of life mind mapping can help with. I have done a lot of research and I am pretty convinced that I know most of the benefits that mind mapping can offer to business users. And yes, there are plenty. But the main question stuck in the back of my head has always been what can mind mapping do for the individual users…'

Website: http://www.dropmind.com
Hand-Drawn Mind Maps or Software-Generated Mind Maps? - Jamie Nast
'…Both modes have their place, but let's talk about the benefits of each and when one might be a better option than the other. 

First and foremost this decision starts with a clear understanding of the purpose of your mind map. The purpose will frame not only the content of your map, but will determine the amount of detail, the extent to which you will use images, whether you use color or black & white, will this be a draft or final version, how this map will eventually be used, AND whether you should draw the map by hand or use mind mapping software…'

Website: http://www.ideamappingsuccess.com
Mind Map of the Month: Three Methods of Mind Mapping - Paul Foreman
'...The two main methods of creating mindmaps are hand-drawn and computer-generated. A third method exists which the first two utilise. What is the third method? ...'

Website: Mind Map Inspiration
Mind Mapping News and Events
Get the latest Mind Mapping News and events in the Mind Mapping World.

Get tips, tools and techniques from the world's leading Mind Mapping Experts.

Do you have any news or events? Send them to us via our Contact Page.
Get Your Copy Now!
Subscribe and Get 50% off the Cover Price!