Using Mind Maps Magazine Issue 26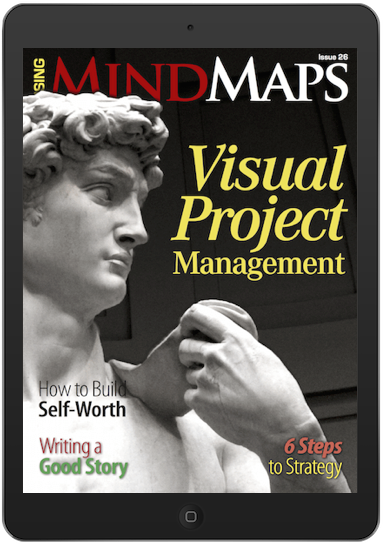 Did you know that Using Mind Maps Magazine can be with you wherever you go?
Once you have downloaded an issue, the content is instantly available on your mobile, so that you can browse through it whenever you have a few moments to spare.
We are committed to providing you Tips, Tools, Techniques, Resources and Opinions by Leading Mind Mapping Experts to make you more successful at work, in your business, in your education and in your personal life. So, if you have any topic ideas, or Mind Mapping Questions, please let us know. We are keen to get your feedback. 
Also, If you Like the Mag please share this email. You can also share snippets from within the Mag via Email, or Social Media. Long Tap gives you access to the Share Menu.

Download Issue 26 by clicking the applicable link below: 
[Click Here to get it on iOS >>]

[Click Here to get it on Android >>]
Editor's Note
Faizel Mohidin
Michelangelo's David, depicted on the cover, is one of the most recognised sculptures in the world. With its base it measures 5.17-metre (17.0 ft) and weighs in at 5,660 kg or 12,478.12 lbs.
Despite this masterpiece and many other completed masterpieces, Michelangelo's genius as an artist is often seen as dwarfing that of his contemporary, Leonardo da Vinci.

He wasn't as 'polished' or as eloquent as da Vinci, and he considered himself to be largely a sculptor, even though he was a master painter as well.

He had a nasty habit of finishing things, while da Vinci had a nasty habit of not..

… But I am more concerned with his note taking ...'

Mind Maps in Action - Bringing Mind Maps to The Classroom
'In this 'Mind Maps in Action' article, we hear from Alessio Bernadelli about his experiences of bringing mind mapping to the classroom and some of the initial struggles and eventual successes of doing so...'

The Innovation Teacher, Part I: Educating Students on Failure, Change, and Discovery
'...Innovation to me means new solutions to old problems. Because I grew tired of hearing what "education today" lacked, I wanted to innovate. Adding to more frustration was listening to educational experts that had never taught, or even worked with kids. More funding, smaller class sizes, added rigor, and new standardized tests have always been the temporary solutions...'
5 Tech Tools to Encourage Critical Thinking
Critical thinking is an important aspect of learning. Understanding something is more than repeating facts, it's being able to apply what you know in different forms. The practice of getting students to do this requires a shift from learning by receiving information to turning that information into something else, like a diagram or a storybook.
These five simple tools allow you to inspire critical thinking in your students. Encourage them to take the information you're giving them, and show what they know with mind maps, puzzles and more! ...'
How to Build Self-Worth
'… To have a high level of self-worth means having a favorable opinion or estimate of yourself. It means having unshakable faith in yourself and in your ability to follow through and get things done. It means feeling worthy of good things; feeling deserving of happiness, health, wealth, success and love no matter what difficulties you might face, disappointments you may experience, or what other people might or might not say to you. It is unflinching...'

6 Steps to Strategy Using Mind Mapping
'… For those of you engaged in any of the Strategic Planning process, from the initial performance review, through to implementing and managing objectives, actions, and projects, I would thoroughly recommend the use of mind mapping software.
It truly does augment and add value to your existing suite of daily-use applications through its highly intuitive and engaging "capture – visualize – manage" processes and functions, enabling increased productivity, clarity on all work activities and higher quality outputs (to name but a few!) ...'
Visual project management comes of age: An interview with Paul Williams
'In recent years, visual project management has emerged as a set of tools and techniques that help project managers to make sense of and manage large, complex projects more effectively. Paul R. Williams, PMP has written a new book entitled Visual Project Management that can help us better understand what they are and when and where to employ them when managing projects. I recently interviewed him to learn more about these tools, techniques and visual frameworks, and why they work so well ...'

Want to write a good story? Use Freytag's Pyramid

'Gustav Freytag was a Nineteenth Century German novelist who saw common patterns in the plots of stories and novels and developed a diagram to analyze them. He diagrammed a story's plot using a tool called: Freytag's Pyramid ...'

Feature: One Trillion Stories for Kids, The Book

'… This Book introduces parents, grandparents, child minders, au pairs and people in general to a truly innovative education skill set namely visual radiant thinking through Mind Maps.
I show my simple Story Telling Mind Mapping Template to readers in order to help you understand basic Mind Map construction and in this case the Template is structured as the stages of a 'running race' for easy understanding. The purpose of the Template is to allow you to develop the "ultimate source" of Made Up Stories for your kids for story time with the idea of parents teaching them Mind Mapping early on in life before school and college begins ...'
And More...
Present and share your ideas with the world through interactive mind maps...
I really hope you love this issue of Using Mind Maps Magazine, and if you find it useful, please share.

Want to read More?
Click the applicable link below: 
[Click Here to get it on iOS >>]

[Click Here to get it on Android >>]
Faizel Mohidin
Publisher
Using Mind Maps Magazine
Subscribe to Using Mind Maps
Get Access to the Best Mind Mapping Tips, Tools, Techniques Resources and Opinions.