Using Mind Maps in your private business
by Riaan Swart
(Cape Town)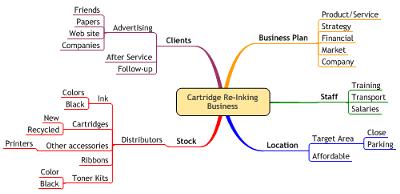 Private Business
So, my main goal was to start a private business. I already knew what I wanted to do, and that was to start a Printer cartridge re-inking business. The next question was "Where do I start"?

There were certain aspects that I had to consider and plan:

1. Business Plan
2. Location
3. Staff
4. Stock
5. Clients

It was really a lot to think about. I'd been using mind maps very effectively in the past and I saw this as another opportunity. The main topic was "Cartridge Re-Inking Business". Next I created 5 branches, each describing an important aspect of my business.
I started with my "Business Plan" branch. From this branch I created sub branches. I wanted to cover the different types of products and services. I wanted to put a sound strategy in place to follow throughout my business, plan how I would handle all my finances and decide what Marketing strategies I would follow to advertise my product.

---

The second branch was "Staff". In my sub branches I wanted to plan for training. There are so many different types of cartridges on the market and each gets filled differently. Salaries for my staff were a concern. I had to research what staff were paid in similar industries and other companies. Transport was also a big issue. Some staff would work in the shop and others would go out to customers to do the cartridge re-fills. The travelling staff needed transport and I had to decide whether I supplied them with a vehicle, or whether they should use their own.

---

The third branch was "Location". Firstly I tackled a "Target Area". I had to get a shop not too far from other businesses with enough parking but also affordable.

---

The fourth branch "

Stock

". I had to find distributors for all the products in my shop. The price, quality and availability of the products were very important. We needed to know how long it would take to deliver new stock. We had to find distributors for quality ink, new cartridges, printer ribbons and toner kits.

---

The fifth and last branch was "Clients". The sub branches covered advertising. We wanted to make a list of possible areas we could target. Next we had to work out an

After Service Strategy,

what period we would guarantee our work for, how to make sure that we always followed up on services rendered to our clients and make sure that they are happy/satisfied with our work.
This was our first draft and it helped us tremendously. We did refine the process/s as time progressed.
We implemented
visual mind maps
of all the process in our shop. We
mind mapped
our
goals
and even used it in all our meetings. We used our
Mind maps
as a
quick reference
and it worked like a charm.
Click here to read or post comments
Join in and write your own page! It's easy to do. How? Simply click here to return to Your Stories about Using Mind Maps.