| | |
| --- | --- |
| MeisterLabs | |
About MeisterLabs
MeisterLabs, the company behind MindMeister and MeisterTask, was founded by Michael Hollauf and Till Vollmer in 2006. A global company headquartered in Munich, Germany, and Vienna, Austria, we constantly aim to improve our tools, setting new challenges for ourselves in the process. Our team is made up of about twenty young and enthusiastic people from all over Europe. What connects us is our love for technology, our obsession with design and the ambition to make collaboration as easy and fun as possible.

Products
With over 5 million users, 14 million maps created and over 600 million ideas generated, MindMeister is the market-leader in collaborative online mind mapping. The tool runs in any standard web-browser as well as on iOS and Android devices, and allows for real-time brainstorming sessions between an unlimited number of users. 
There are many things that set MindMeister apart:

Fast, modern and highly intuitive: MindMeister is being developed with the newest technologies and with a strong focus on usability. The award-winning mind map editor allows for frictionless brainstorming sessions as well as complex planning activities.
Presentation mode: A built-in presentation mode allows users to turn their mind maps into dynamic slideshows within seconds, and broadcast them live to other collaborators. Presentations can also be exported or embedded in blogs and websites.
History mode: In MindMeister, users can go back in time and review the entire change history of their mind maps. All changes are time-stamped and color-coded so users can see exactly who changed what and when.
Task management integration: MindMeister offers simple task management capabilities right inside the map editor. For bigger, more complex projects, MindMeister seamlessly integrates with its brother-app MeisterTask, allowing users to turn their mind maps directly into agile project boards.
Pricing:

MindMeister offers a free plan with limited functionality and mind maps; there are multiple paid plans available starting at 36$ per user for 6 months. MindMeister also offers great educational discounts for students and teachers.
Named one of the best apps of 2015 by both Apple's App Store and Google's Chrome Web Store, MeisterTask is an intuitive multi-platform collaboration tool that raises the standard in efficient—and even enjoyable—task management. 
Using MeisterTask, teams organize and manage tasks in a gorgeous, customizable environment that perfectly adapts to their workflow and automates recurring steps.
Free apps for iPhone, iPad, Apple Watch, Mac and Android are available for download in stores.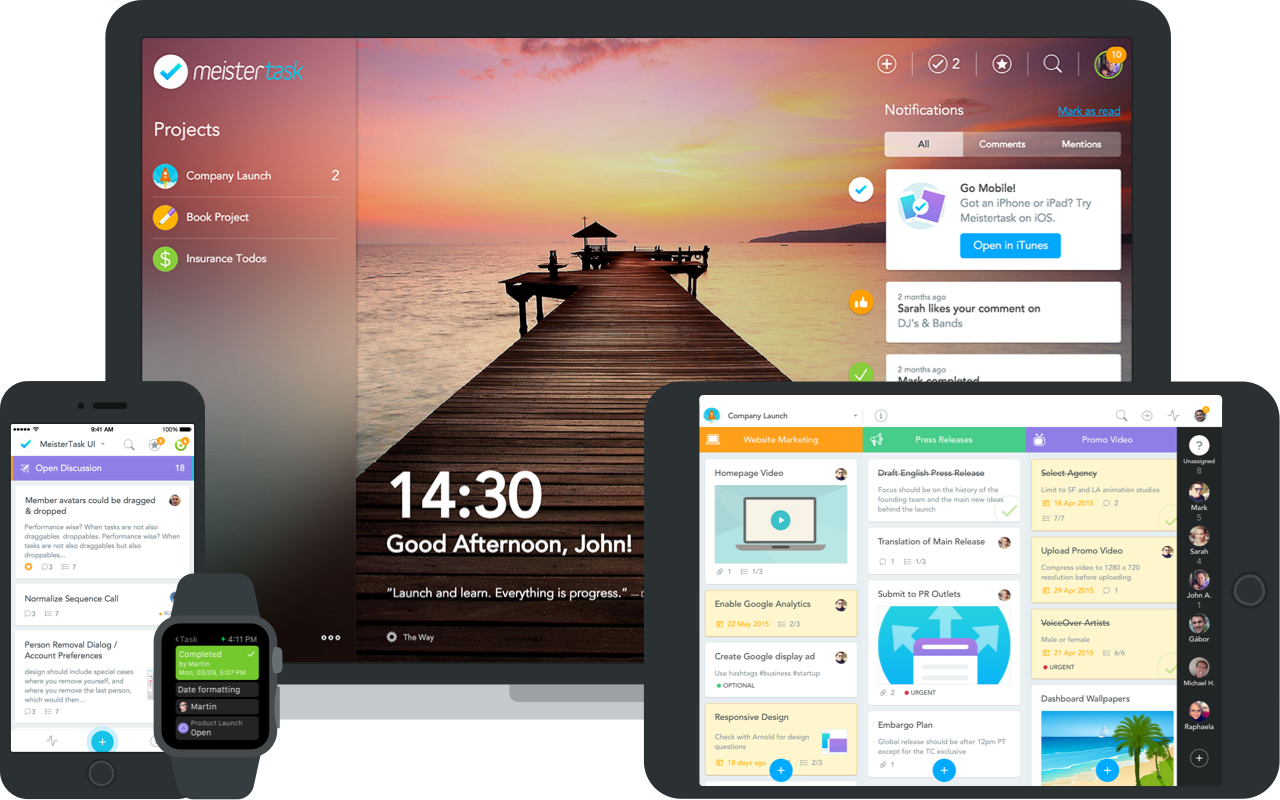 Pricing:

MeisterTask offers a free plan with unlimited projects, tasks and collaborators; the paid plan is available for 9 $ per user/month and adds powerful workflow automations, unlimited integrations with other tools, statistics and reports, and more.