Hi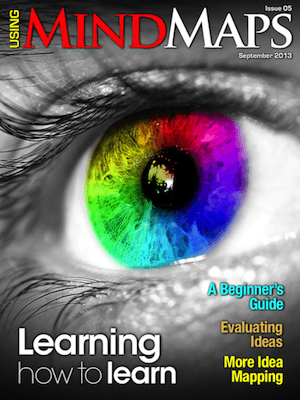 September 2013 Issue of Using Mind Maps Magazine now available on iPad, iPhone and iPod
This month we reinforce some basics and also focus on learning how to learn.

We have a new Buzan Licensed Instructor on board and he will show you how to learn how to learn using a simple 5 Step Learning Model.

As mentioned last month, you will soon be able to have the magazine on all your devices with the release of the Kindle Version. The Kindle Version will be similar to the current Default Text Version on the iPhone.

I am super-excited about this - and hope you are too.

Please send us feedback via our Contact Form on what you would like to include in the magazine. Also, if you have any interesting stories to tell, let us know. Who knows, your article could feature in our next edition.
In This Issue...
How to Mind Map - A Beginner's Guide
Adam Sicinski
Adam's methods can be used for hand-drawn Mind Maps, as well as ones created with Mind Map Software.

His unique style of Mind Mapping is readily recognised all over the world.

So, read his article and visit his website. He has loads of ready-to-use Mind Maps for you to download and use immediately. You can also get some great laminated posters for quick and easy reference.
IQ Matrix
Mind Map Of The Month
Paul Foreman provides the Mind Map of the Month, a beautiful hand drawn Mind Map with great Mind Mapping Tips.

You can get more information, tips and ebooks on creating your own hand drawn Mind Maps on his website.
Mind Map Inspiration
Learning How to Learn - TEFCAS
Tarek Fahmy - Licensed Buzan Instructor
Tarek's Simple, Colourful Mind Map is immediately recognisable as a Buzan Style Mind Map.

He takes us through the TEFCAS learning model, a great model to help you learn how to learn.
Tarek Fahmy on BiggerPlate
A 6 Step Process for Transforming Your Ideas Into Action - Visually
Chuck Frey
Chuck Frey, the leading authority on Mind Mapping Software, has a great article on visually transforming your ideas into action. He discusses process and tools that you can use to do this.

Follow Chuck Frey to keep up to date with the best tips on using Mind Mapping Software.
Mind Mapping Software Blog
Join BiggerPlate - Share and Follow
BiggerPlate, the biggest online Mind Map Sharing Community, now has great, short Mind Mapping Tutorials.

Each two tutorial only runs a few minutes, so it's worth your while to check it out.
BiggerPlate
Debunking the 1 Word Per Line Law
Jamie Nast
Jamie Nast tackles a controversial topic as she discusses her view on the one word per branch law of Tony Buzan.

Read her article - You be the judge!
Idea Mapping Success
And More...
Bloom's Taxonomy, A Physiology of Success, Mind Mapping News…
P.S. if you do have an iPad, iPhone, or iPod Touch, Get Your Copy Now!
---